www.sebastianotusa.it > interviste
Le interviste di Sebastiano Tusa
ORICALCO, LA LEGA DEI DESIDERI
di Flavia Marimpietri
NEL VI SECOLO A.C., TRE NAVI GRECHE COLARONO A PICCO NELLE ACQUE DI GELA CON l LORO PREZIOSI CARICHI. A TUTT'OGGI, PERÒ, IL RECUPERO E' STATO SOLO PARZIALE.
Di questo metallo leggendario, racconta Platone nel Crizia, era ricca l'isola di Atlantide: ma è la prima volta che l'oricalco viene trovato in lingotti, non è vero?
"Sì, per questo la scoperta è eccezionale. Abbiamo recuperato 47 lingotti nello scorso febbraio, che si sono aggiunti agli altri 39 del 2014. l reperti a oggi conosciuti forgiati in oricalco sono molto rari e questa lega non è mai stata trovata sotto forma di lingotti, in nessuna parte nel mondo. Il carico della nave rappresenta dunque un unicum assoluto".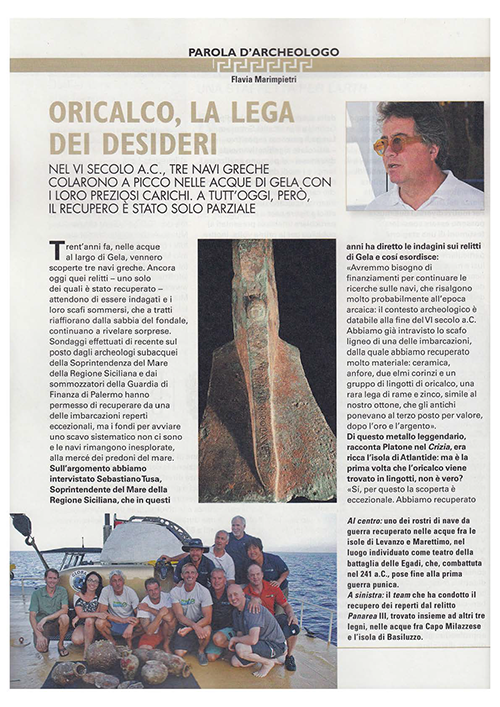 Leggi l'articolo su ARCHEO di Aprile 2017
---
"FAVORIRE IL TURISMO, NON IL PETROLIO": PAROLA DI SEBASTIANO TUSA, SOPRINTENDENTE DEL MARE
da Archeostorie magazine:
"Lo scorso 13 marzo un incidente in una piattaforma a pochi chilometri dalle isole Kerkennah, in Tunisia, ha provocato una fuoriuscita di petrolio che si sta dirigendo verso le coste siciliane. Archeostorie ha intervistato sulla delicata questione l'archeologo Sebastiano Tusa, Soprintendente del mare della Regione Siciliana e membro dell'Advisory Board del nostro Journal of Public Archaeology [...]"
Leggi l'articolo in ARCHEOSTORIE - sezione ARCHEOGREEN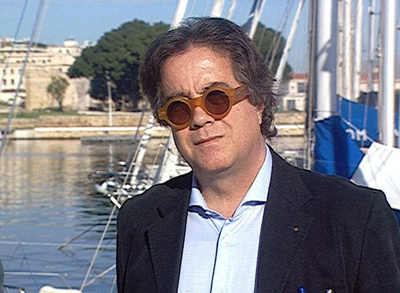 ---
17 Mar 2016
By Tim Mworia | @timworia
Finding Our Heritage in the Deep Blue Sea

"In the list half interesting, snooze-inducing sciences, you're likely to find Underwater Archaeology immediately below Radiocarbon Dating. Nobody wants to go to the sea or a sun-kissed island as a job, right? That's where you go to get away from that kind of stuff, strip down to your tighty whities and let it all jiggle in a world of breezy liberty. But there are people who go to pristine beaches and scenic islands as their 9 to 5.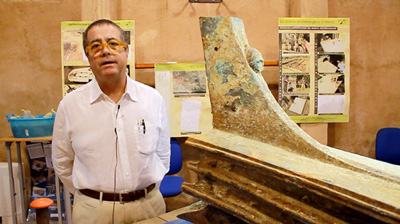 And as Sicily-based Prof. Sebastiano Tusa explained at his conference on Underwater Cultural Heritage at the National Museum, their efforts are for the greater good. Well, not the treasure hunters, those ones do it for personal enrichment. Prof. Tusa who is a celebrity of sorts in the field is in the country on the invite of the Ministry of Sport, Culture and Arts along with the Italian Cultural Institute. As I discovered, five minutes into his presentation, Underwater Archaeology actually is more than half interesting. And as it turns out, quite important too.
Leggi l'articolo in Kenya Buzz
---